State of the Church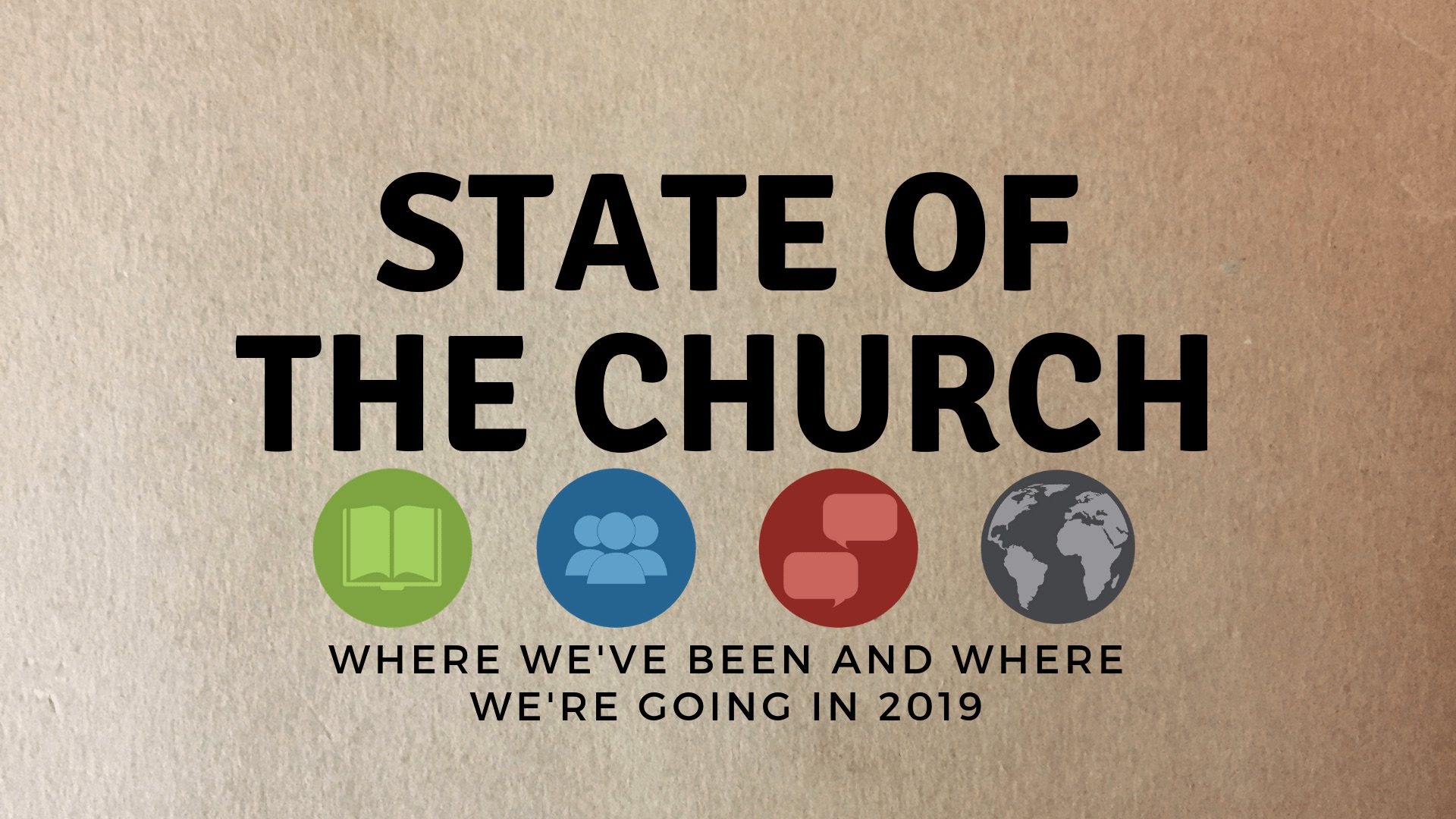 Our annual Congregational Meeting on Sunday, February 17, was a great opportunity to reflect on last year (with gratitude to God) and to think and pray about next year (with hope and confidence). After electing two outstanding new officers, Larry Perry as Ruling Eder and Josh Wyman as Deacon, I presented my annual report, which I am calling my State of the Church Address. It won't get the same news coverage as the other "State of the..." you might have heard this month, so here are the main points:
Looking back at 2018, I reflected on several Thanksgivings and a handful of Disappointments: thankful for the successful Conference on the Bible (which we also called our Parish Mission) with Julian Russell; thankful for the faithful ministry of Ruling Elder Steve Sharp, who is stepping down as Clerk of the Session; thankful for many new friends who've joined the church, many of whom were present for their first Congregational Meeting; and disappointed by the departure of Dustin and Whitney Messer and several other dear friends.
Looking ahead to 2019, I focused on several Goals which I am planning to recommend to the Session for action in 2019. In retrospect, last year's list was too long, with over thirty items, so this year I limited myself to just two goals each in the three following categories: Christ (Worship & Discipleship), Church (Structure & Pastoral Care), and Carrollton (Mission both to Carrollton and from Carrollton).
Christ (Worship & Discipleship) First, I plan to recommend to the Session that we host a Parish Mission in June featuring my very talented friend, the Rev. Glen Scrivener from Speak Life UK. I have already spoken to Glen, and he is open to visiting Christ Church during the PCA's General Assembly to share the gospel and provide evangelistic training. Second, I am hoping to involve more members of the church in our corporate worship on Sundays, as greeters, Bible readers, and members of our excellent music team.
Church (Structure & Pastoral Care) First, the Session and I have already begun work on an expanded Elder Ministry at Christ Church, with every member of the church being assigned to the care of a Ruling Elder. Now that we have a full cohort of Ruling Elders (thanks to Larry), they can get start offering prayer and encouragement in cooperation with me and Pastoral Assistant Colin Deay. Second, I am calling on every member of the church to get involved in one of our thirteen ministry teams, from Sunday School to Safety & Security.
Carrollton (Mission both to Carrollton and from Carrollton) We are not a club; we are an outreach station representing Jesus Christ and serving others in his name. First, we have identified two local mission priorities: the Human Coalition, which serves pregnant moms and their families; and the Reformed University Fellowship International, which serves the thousands of international students at the University of Texas-Dallas. Second, the International Mission Team is being challenged to deepen and broaden our work supporting the church's current missionaries and to add to their number.
Those six new goals represent a lot of work requiring a lot of money and a lot of time from a lot of people, but they're just the beginning! The Session and I want to invite you to please share your ideas how we can more effectively and more faithfully live out our call to be Christ-Church-Carrollton. Our name really is our mission statement, and we know the Holy Spirit is as active in your life as he is in ours. Together, listening to him and humbly submitting ourselves to his loving purposes in Christ, the State of Our Church will always remain strong!