See How He Loves Us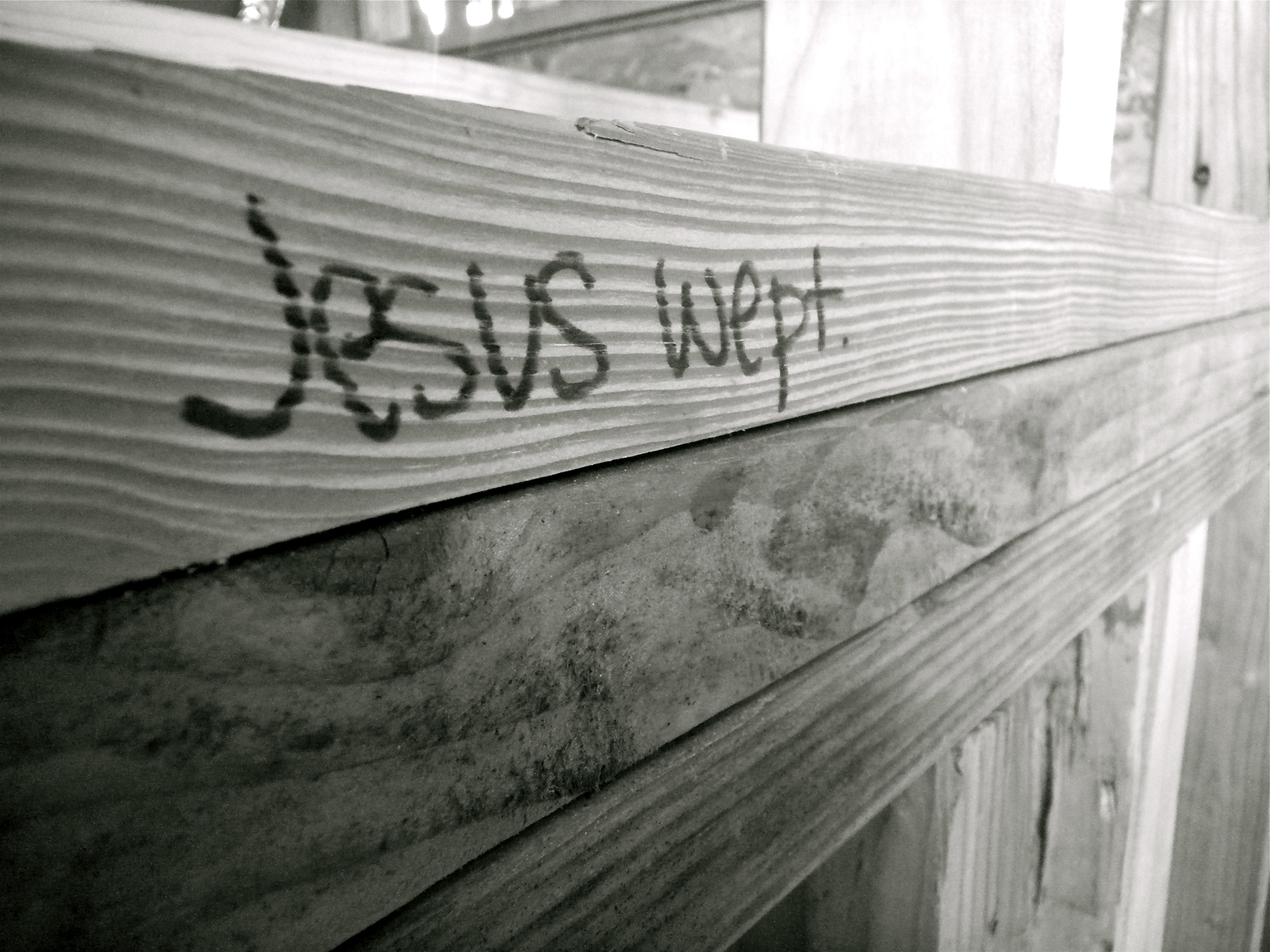 33 "When Jesus saw [Mary] weeping, and the Jews who had come with her also weeping, he was deeply moved in his spirit and greatly troubled. 34 And he said, 'Where have you laid him?' They said to him, 'Lord, come and see.' 35 Jesus wept. 36 So the Jews said, 'See how he loved him!'" ‭John‬ ‭11:33-36‬ ‭ESV‬‬
John 11:35 is the shortest verse in the Bible, and it is arguably one of the most powerful--"Jesus wept"--just two words in English (three in Greek) that reveal the deep bond between Jesus and those whom he loves. When we weep, he weeps. When we are troubled, he is troubled. To borrow the language of the passage -- See how he loves, not just Lazarus and Mary and the others, but us too.
Last Sunday afternoon, Christ Church hosted the memorial service for Betty Mullins, an 86-year-old widow who lived across the street from Tom Mayfield. Betty never joined Christ Church, and she only attended once, but through Tom, I got to know her quite well and enjoyed many visits with her in her home, praying with her, reading the Bible, and sharing the Lord's Supper. Her death grieved everyone who knew her. John 11:35 lets us know that Jesus grieved with us.
Back just a few months ago--on December 1--we had the funeral for Jay Pierce. Jay, a founding member of Christ Church, had died after a short, intense battle with esophageal cancer. There were many tears as his family and friends reflected on all that Jay had meant to us. Again, as we wept, John 11:35 let us know that Jesus wept with us.
As Lent 2018 draws to a close, with its twin emphases on sin and death, it is deeply comforting to know that the Savior whom we worship weeps with us in our grief, not because he is powerless over death--as Easter demonstrates--but because he intensely loves us and intensely identifies with us. In love, he takes our grief and sadness upon himself, just as, in love, he has taken our sin.
And as Easter 2018 draws near, it is deeply comforting to know that the same Savior who weeps with us and binds himself to us in our grief, also binds us to himself in his resurrection. He shares our tears, and we share his joy; he shares our experience of death, and we share his experience of never-ending life!
Dearest brothers and sisters, this Easter and always, let's remember John 11:35 when we feel alone and overwhelmed, when our tears don't seem to stop, and when we grieve the reality of sin and death. In the midst of it all, let us see and remember again and again how Jesus loves us.