Ordained for What?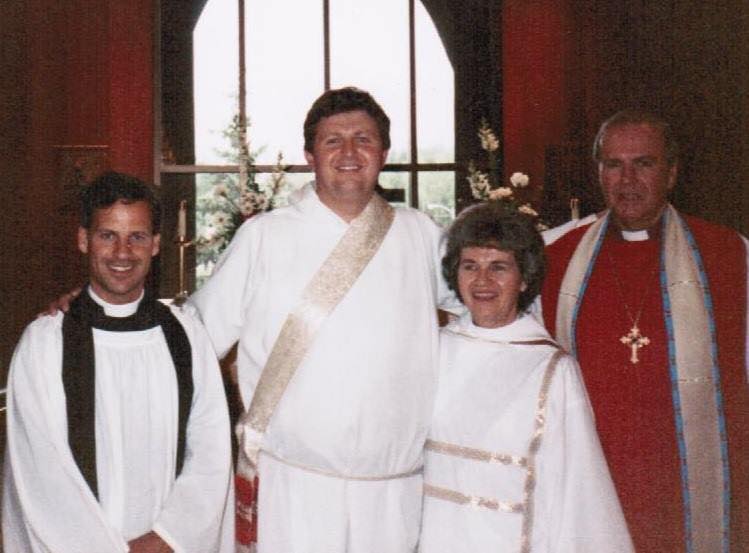 On July 22, 1989, I was ordained as a minister in the church of the Lord Jesus Christ. Leslie was by my side, as she has been now for thirty years. The ceremony was held at St. Christopher's Episcopal Church in Anchorage, Alaska. The officiant was Episcopal Bishop George C. Harris, an old-school liberal, kind, generous, and enormously supportive of me, even though I was (and am) a conservative evangelical.
The service was simple and community-oriented. Many friends were there. Along with Leslie, my brother, mother and grandmother were also happily in attendance. The sermon was preached by the Rev. Tommy Oates, who has been my friend and mentor for over thirty years. He became my first boss as an Episcopal minister at Christ Church Hamilton, Massachusetts, and today he pastors a PCA church in Greenwich, Connecticut.
For me, the climax in the ordination ceremony was right after the laying on of hands, when Bishop Harris solemnly presented me with the Holy Bible: "Bill," he said, looking directly into my eyes, "receive this Bible...as the sign...of your authority...to proclaim God's Word..." It's now twenty-nine years later, and I still bow my head in awe at what Bishop Harris ordained me to do: "to proclaim God's Word."
According to Google, 10,594 days have passed since my ordination. That works out to approximately 1,513 Sundays! Over that time, so much has changed for me and Leslie--five kids, two grandkids, three big moves: to Hamilton in 1989, to Vancouver, Canada, in 1993, and to Dallas in 1997. Dear Bishop Harris died in 2000. I left The Episcopal Church in 2010, and I followed Tommy into the PCA in 2012.
But what hasn't changed is my basic job description. I was ordained in July 1989 to be a proclaimer of God's Word, and twenty-nine years later, that's still what I am trying to do. Of course, my best efforts have been far from perfect, but God has been incredibly patient and incredibly kind, and after hundreds of sermons, I can honestly say that preaching is more exciting and more meaningful to me today than when I began all those years ago.
I don't know how much longer I'll be able to continue to preach. My health is ridiculously good, but I'll be sixty in a few weeks, and I am beginning to realize I probably have fewer sermons ahead of me than there are behind me. But that's okay. I love what God has called me to do, and I wouldn't trade my job for the world. Serving as a minister at Christ Church Carrollton is more of a blessing than I could have even imagined back in 1989.
As I reflect on the anniversary of my own ordination, I have to say how encouraged I am to see outstanding young men like Dustin Messer, Colin Deay and John Lovell consider taking their places in the great procession of those who have been called to proclaim God's Word. It's not an easy gig, so to them I say, don't do it if you're not called to it, but if you are and if you do, then know you'll never regret it!
Finally, let me close this reflection by committing myself once again to the task for which Bishop Harris ordained me long, long ago when I was much, much younger. With all of my heart, I dedicate all of my remaining days--be they many or precious few--to proclaiming God's life-giving, life-transforming Word. May he use me to bless all whom he has called me to serve. In the name of the Father, and of the Son, and of the Holy Spirit. Amen.