My Three Heroes: J.I. Packer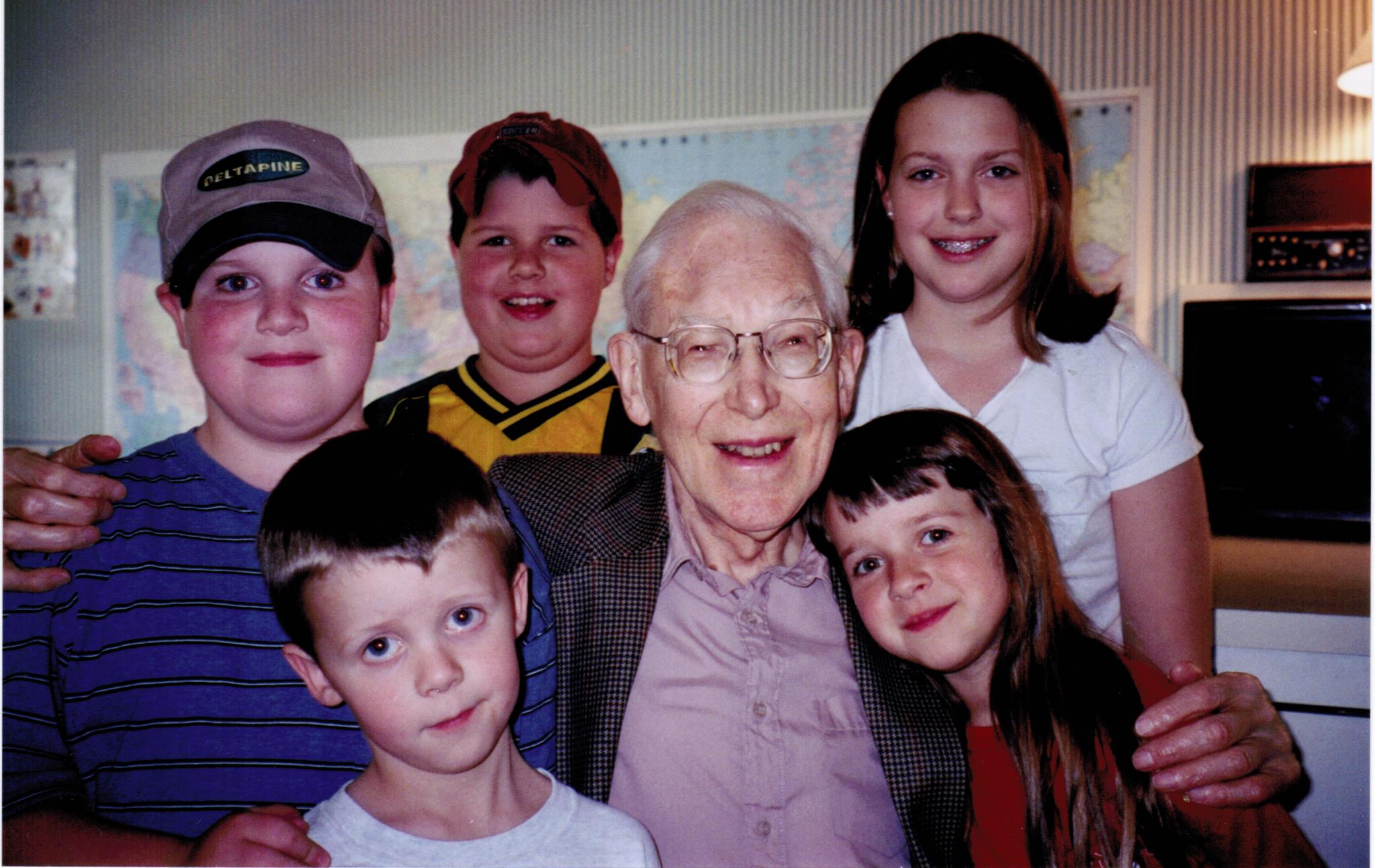 Since my earliest days in seminary, I have had three great heroes in ministry: J.I. Packer, John Stott, and Dick Lucas. If you don't mind, I'm going to spend some time over the next few weeks describing my relationship with each of these spiritual giants and telling you what they have meant to me, both professionally and personally. The first is J.I. Packer, whom Time Magazine recognized in 2006 as one of "The 25 Most Influential Evangelicals in America."
When I first arrived at Virginia Theological Seminary in August 1986, to begin my three-year course of study, I had read very little theology. I was 27 and already a self-identified evangelical, but my knowledge was really only pious opinion, with embarrassingly little to back it up. A kind faculty member recommended two best-selling books to help me grow: Knowing God and Evangelism & The Sovereignty of God, both of which were authored by an English clergyman named James Innell Packer, known nearly universally as J.I..
I devoured both of Packer's books which had been recommended to me--even then already recognized as Christian classics--and then tracked down his other lesser-known works, including his essay, "Infallible Scripture and the Role of Hermeneutics." Every word Dr. Packer wrote seemed to me to be clear, lucid, faithful--and true!--and because he was an Episcopalian/Anglican, as I was at the time, his faithful words were a special encouragement, giving me a place to stand and a refuge in a denomination that was even then wobbly.
In retrospect, I think there are three things about Dr. Packer's theological viewpoint that have always attracted me: his high view of the sovereignty of God, his devotion to God's Word, and, above all, his deeply Christ-centered view of God and the gospel ministry God has entrusted to us. In Knowing God, for instance, Packer's chapter on our adoption in Christ poignantly pulls all three of these characteristics of his theology together to present a deeply moving understanding of what gospel life is and what the gospel minister is supposed to proclaim. For Packer, knowing God isn't just having correct doctrine; it's knowing God's all-powerful, sovereign love, personally, in and through his Son.
This is what Packer expresses in all his books, coupled with wide-ranging knowledge and an unusual gift to explain complex things in an understandable way. These qualities are also on full display in his lectures, where a listener discovers that Dr. Packer writes almost exactly like he writes! For my twenty-ninth birthday, in September 1987, Leslie and I (who were by then seriously dating) attended the Congress on the Bible II in Washington, DC, where Dr. Packer was one of the featured speakers. His lecture was brilliant! It was there where Leslie and I first had the chance to shake the great man's hand. He couldn't have been nicer. We also heard him preach in person for the first time that Sunday at the Falls Church, Leslie's home church in suburban DC.
In 1990, during my first ministry job in Hamilton, Massachusetts, my boss Tommy Oates invited Dr. Packer to speak at what we called the Episcopal Evangelical Assembly, the first of several Assembles, sponsored by the Evangelical Fellowship in the Anglican Communion. Again, Dr. Packer's lecture was brilliant, and, again, he was personally as friendly, down-to-earth, and accessible as he could possibly have been. Leslie and I were, from that point on, totally smitten!
In 1992, I was delighted to be called to join the staff at St. John's Anglican Church in Vancouver, Canada, as the Assistant to the omni-gifted Rector, David Short. Among the countless blessings of life at St. John's was getting to know David's distinguished Honorary Assistant--none other than the Rev. Dr. J.I. Packer! Over four years, Leslie and I spent many hours with Dr. Packer and his wife, Kit, sharing meals, laughing, praying, and talking about life in Christ.
And, for four years, we went to church together pretty much every Sunday! Can you imagine, as a junior clergyman, climbing into the elevated pulpit at a church highly regarded for its preaching and looking out across the congregation to see, sitting there with his Bible open, J.I. Packer, waiting patiently to hear what you had to say? Let's just say it was a trip! It still amazes me, twenty-five years later, that I can honestly say I have never had a more eager, humble, teachable Bible student than J.I. Packer!
My family and I left St. John's in 1997 to come to Dallas. Since then, Dr. Packer has kindly spoken at my church five times, basically whenever he was in North Texas and free on a Sunday morning. He has stayed in our home and spent time doing everything from sitting at the pool to eating hot dogs to watching TV. One of my favorite pictures, above, is of Dr. Packer hanging out with our kids when they were little. Our youngest son, James, is named, in part, in Dr. Packer's honor.
In February 2008, I was shocked and saddened, like many others, to hear that the Anglican Bishop of Vancouver, Michael Ingham, had sent Dr. Packer a letter threatening him with suspension because of his bold stand in support of the Bible. A few months later, that's exactly what Ingham did, suspending from ministry in the Anglican Church of Canada one of Anglicanism's most recognizable and trusted spokesmen. Fortunately, the Anglican Diocese of Sydney, Australia, immediately received Dr. Packer and made him a Canon of Sydney Cathedral.
A few months later, back in 2009, just before we launched Christ Church Carrollton, our church leadership made an important decision, again involving Dr. Packer. After many years using the New International Version of the Bible, we decided to begin using, instead, the English Standard Version, because of its more literal translation of the ancient text. We still use the ESV to this day, as do many other evangelical churches all around the world. If you go to the trouble to Google the name of the ESV's General Editor, you'll discover that it is J.I. Packer, a man who has actually preached the Bible at Christ Church Carrollton.
Since 2016, Dr. Packer has cut back on his preaching, writing, and traveling, due to macular degeneration, an incurable disease of the eye. Because of his condition, we've only been able to talk a few times a year, when I call him around his birthday, around Christmas, and on the rare occasion I have some news I think he might not otherwise hear. You may be interested to know that Dr. Packer doesn't fret about his blindness. "God knows what he's doing," says Packer, with typical resolve. "This comes as a clear indication from headquarters. And I take it from him."
Of course, none of us is getting any younger, and even the spiritual giants among us are mortal. It's sobering for me when I stop to think that I am about the same age today that Dr. Packer was when I first met him, thirty years ago. His influence on me has been enormous, first through his books, then through his personal witness, and finally through his friendship. I am grateful to God for him.
One of my fondest memories of Dr. Packer is a lecture he gave in the Adult Class at St. John's, Vancouver, back in the day. It was just a small group of us--maybe thirty--and he was lecturing on John Bunyan's Pilgrim's Progress, one of Dr. Packer's favorite books, and one of mine too. He got to the passage at the end, where the central character, Christian, was crossing the river to the Celestial City. Packer read from the text. I still remember his tear-filled eyes and trembling voice:
"Entering [the river of death], Christian began to sink. And crying out to his good friend, Hopeful, he said, 'I sink in deep waters, the billows go over my head; all his waves go over me... [T]he sorrows of death have compassed me about; I shall not see the land that flows with milk and honey.' And with that a great darkness and horror fell upon Christian, so that he could not see before him...
"Then I saw in my dream that Christian was as in a muse awhile, to whom also Hopeful added this word, 'Be of good cheer, Jesus Christ maketh thee whole'; and with that Christian brake out with a loud voice, 'Oh, I see him again! and he tells me, "When thou passest through the waters, I will be with thee; and through the rivers, they shall not overflow thee."'"
I have learned so much from Dr. Packer over my whole Christian life. Since my earliest days as a ministry student, he has been my teacher in understanding theology, ecclesiology, hermeneutics, and the simple practice of humbly, bravely, hopefully and confidently following Jesus, who indeed "maketh us whole." And, now, with thousands of other admirers, aided by the gracious Spirit, I am learning from Dr. Packer how to follow Jesus all the way to the end.
Please join me in thanking God for my hero, J.I. Packer, and in asking God for grace for Dr. Packer to persevere in Christ, and for each of us to follow Dr. Packer's godly example.