My Three Heroes: Dick Lucas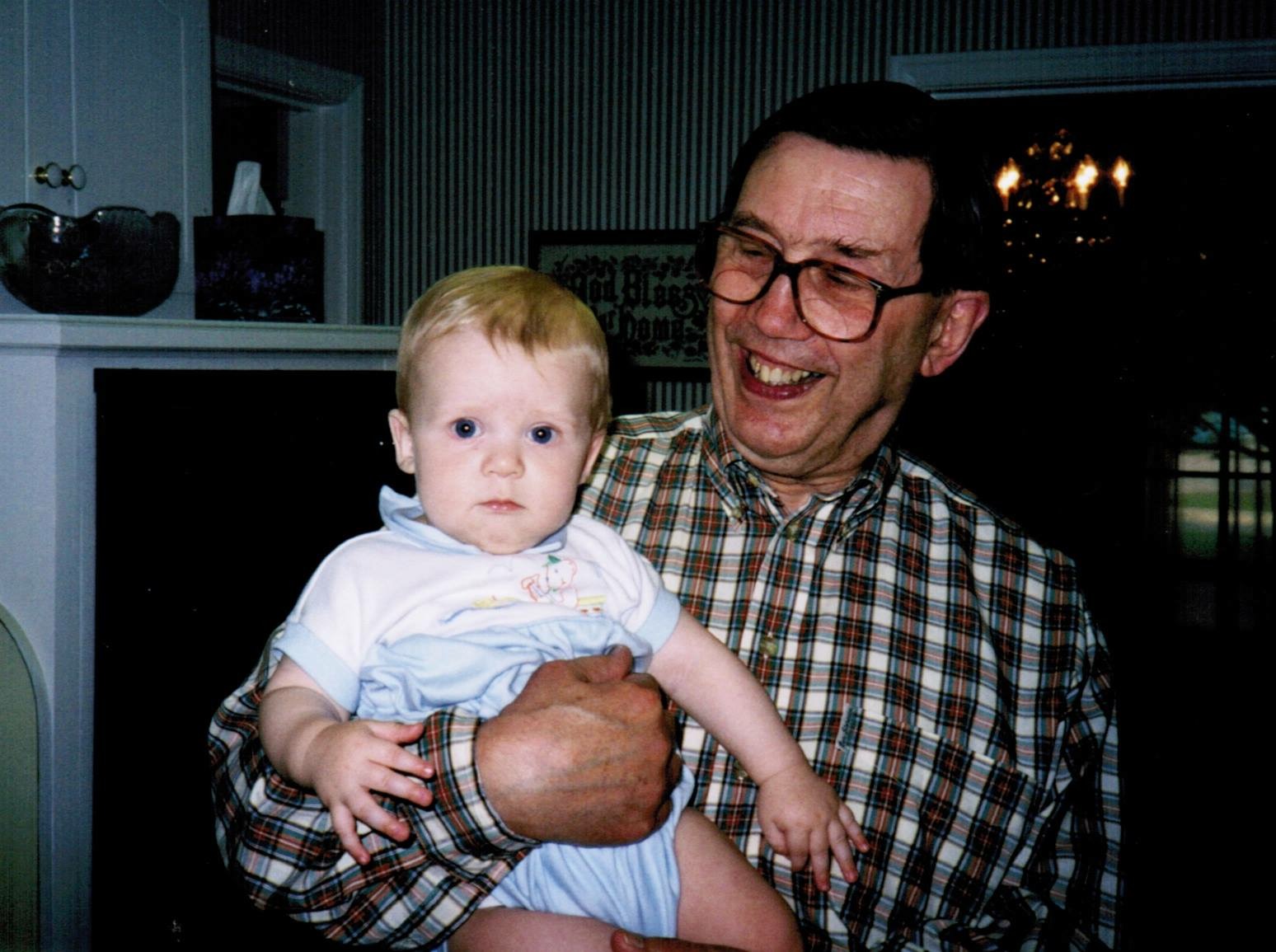 Do you know what a "prebendary" is? Neither did I, the first time I met one! In contemporary usage, the title "prebendary" is given to senior clergy in the Church of England in recognition of distinguished service. The only prebendary I've ever known is my third hero, the Rev. Dick Lucas, long-time Rector of St. Helen's Bishopsgate and a prebendary of St. Paul's Cathedral, London. The first time I met Dick, in 1987, at the Philadelphia Conference on Reformed Theology, I called him "Prebendary," as he was listed in the program. He just smiled and said I should call him "Dick." And, thirty-one years later, that's what I've called him ever since.
Richard Charles "Dick" Lucas is about as English as a person can get. He literally wears tweed jackets and club neckties, and has a dignified London home filled with antiques, family heirlooms, and books. His Oxbridge accent, self-effacing sense of humor, understated way of doing things, refined tastes, and gracious manners, all combine, with eloquence and a razor sharp mind, to create a figure that is almost Churchillian, like a character in a book.
Born in 1925, Dick first matriculated at Oxford, where C.S. Lewis was his tutor! He has a framed note from Lewis that is, to this day, a prized possession, and he laughs at what the great Lewis must've endured reading his youthful essays. Dick left Oxford during World War II to serve as an officer in the Royal Navy. He was, he says, not a model Christian during his military service. After the war, he moved to Cambridge where he graduated in 1949. He studied for ministry at Ridley Hall, Cambridge, and was ordained in the Church of England in 1951. His first ministry position was as a Curate at St. Nicholas Sevenoaks in Kent. From 1955-1961, he worked with the Church Pastoral Aid Society, one of the UK's oldest evangelistic programs for young people.
In January 1961, some Christian businessmen invited Dick to do some lunch-time Bible talks in London. A few months later, he was appointed Rector of St. Helen's Bishopsgate. Bishopsgate Street, then as now, is rather like the Wall Street of London. Right in the heart of the City, St. Helen's has stood since the Middle Ages, one of the only local churches to survive the Great Fire of 1666 and the Blitzkrieg of 1940-41. Dick jokes that, when he first arrived, there were more members of the choir than the congregation! Over time, the St. Helen's Tuesday lunchtime Bible service grew to be one of the largest gatherings of Anglicans in the country. It still is! And, since his formal retirement in 1998, he has continued to preach at St. Helen's, as Rector Emeritus.
When I first met Dick back in 1987, he had already been Rector of St. Helen's for twenty-six years! After hearing him teach the Bible, I became an instant fan, so I invited him to come to Virginia Seminary to lead a preaching workshop for men and women preparing for ordination in the Episcopal Church. I am not exaggerating when I say that it was that first preaching workshop with Dick that set my life on its current course. If there is anything worthwhile in my thirty years of ministry, I owe it ultimately to God working through Dick Lucas. There are literally thousands of other ordained ministers--Anglican, Presbyterian, Baptist--who would say the same thing.
Through careful instruction and forty years of faithful modeling, Dick taught me and others to listen to the Bible--to listen to the text in front of us, with its context--and to preach what it says, nothing more and nothing less. Not to preach my theological framework, however good it may be, and not to preach the latest fad, but to go back to what the passage meant to its original hearers and to teach and apply its meaning for today. That is what I have been trying to do ever since.
In 1990, my relationship with Dick took a new turn. I was attending one of his larger conferences, in London, and he invited me to stay at his home while I was there. That was my first visit to Merrick Square, and, since then, Dick has graciously hosted me many, many times. Today, one of my favorite places on the planet is Dick Lucas' kitchen and sitting room. I have broken bread and enjoyed happy fellowship there countless times. On several occasions, he has even read outloud from P.G. Wodehouse's Jeeves stories!
Leslie and I have often tried to think of ways we could honor Dick in our family. Our youngest son was born on September 23, 1997, and Leslie and I decided to name him after Dick--James Richard Lucas Lovell. Always the pushy Americans, we also asked Dick to be James' godfather, and not only did Dick say yes to that request, but he further honored us by coming all the way to Dallas to preach and to perform James' baptism. The picture above of Dick holding our son James is one of my treasured possessions!
I am so grateful for Dick Lucas! He has been a huge part of my life, at many levels, as a hero, mentor and dear brother in Christ. As a matter of fact, because my own father died young and was never a fixture in my experience, Dick has become very much like a father to me. I love him dearly and pray for him daily. Thankfully, my prayers have been answered. At almost 93, he is active and mobile and as sharp as a tack. Spending time with him, whether it's discussing the Bible, the church, current events, culture, history, or what we're having for dinner, is always a delightful and enlightening experience, just as much in 2018 as in 1987!
Thank God with me for the Rev. Prebendary--my hero, Dick Lucas!