Leaders for Today and Tomorrow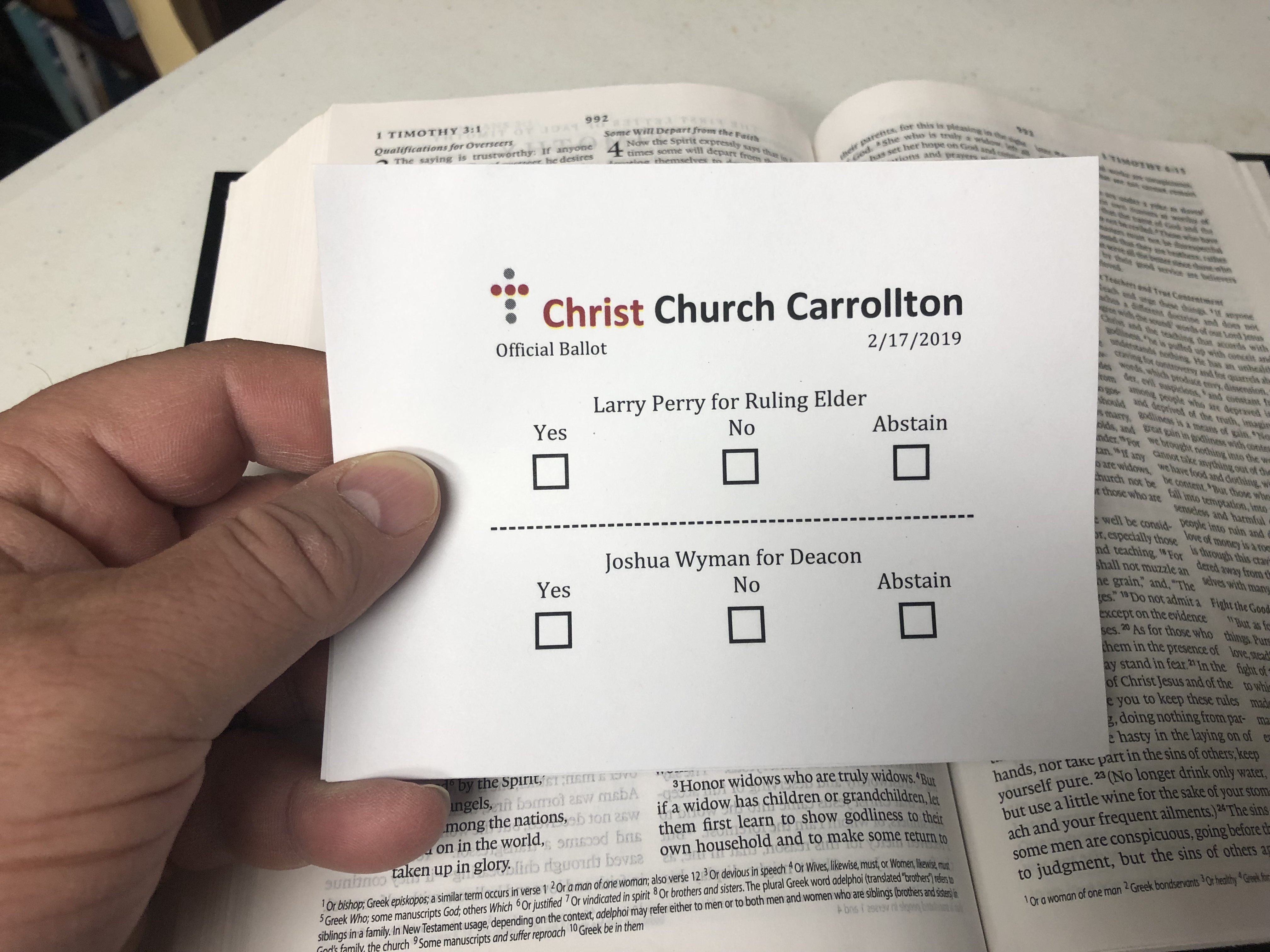 One of the highlights of this coming Sunday's Annual Congregational Meeting will be the election of a new Deacon and a new Ruling Elder. Last Spring the members of the church nominated three candidates—Brian Laird, Larry Perry, and Josh Wyman—to begin the process of preparation. After completing the training, Brian was allowed to decline his nomination in order to focus on helping his wife Grace with their new twin girls. That left Larry and Josh. After prayer and discussion, Josh is being presented by the Session as a candidate for Deacon, and Larry is being presented as a candidate for Ruling Elder.
Josh Wyman Josh and his wife Samatha (aka Sam) have been members of Christ Church Carrollton since March 24, 2015. Since then, Josh has served as one of the Music Team Leaders at the 10:30 service, helped co-lead Community Group, and preached several times at the Parish Project. He and Sam are also both actively involved in local mission. When asked what most excites him about our church's future, Josh replied, "The downtown Carrollton area is such a unique space surrounded by an incredibly diverse population. Christ Church is ideally placed to reach people from all different backgrounds and walks of life. And I believe our church has the heart to reach those people. I'm excited to see how God uses us to draw others to himself." Besides his multiple jobs inside the church, Josh serves Christ as a sales representative for Statewide Remodeling.
Larry Perry Larry and his wife Ellen have been members of Christ Church Carrollton since September 22, 2015. Larry has led our Safety & Security Team and, with Ellen, has co-led our International Mission Team. He and Ellen have also been actively involved in Community Group and the Adult Bible Class. When asked what most excites him about the church's future, Larry says, "I think one of the most exciting things about C3 is its potential. We are located in a true 'sweet spot' for ministry here in downtown Carrollton. With the Lord's blessing, we have a huge opportunity for reaching unchurched people with the gospel of Christ. Also, the philosophy of the Session to not allow C3 to grow too large provides for ongoing mission opportunities in the downtown area and beyond. As we grow, we can split off and plant other new churches in the surrounding areas to continue the focus on local evangelism." With a large and growing family, Larry recently retired from PepsiCo as Director of Global Environmental Protection and now serves Christ by teaching Environmental Science at the Coram Deo Academy.
Process Both Larry and Josh were nominated by you, the members of the church, in accordance with the guidelines and qualifications in the Scriptures (1 Timothy 3 and Titus 1). The Session approved them to begin the year-long Leadership Training Course, under Pastor Bill Lovell's direction, and then examined them again at the end. Throughout the process, Bill and the Session worked with Larry and Josh to discern which office they were each being called to fill, based on their gifts and the needs of the church. After reaching one mind, the Session enthusiastically presents them to you as a slate. You are asked to vote Yes, No, or Abstain. If elections go as planned, we plan to have ordinations during the 10:30 service on Sunday, February 24. We will also open nominations for next year's candidates.
Leaders for Today and Tomorrow In Ephesians 4:11-12, the Apostle Paul teaches us that one of the ways Christ provides for his church is by raising up leaders "to equip the saints for the work of ministry." For the Lord's mercy in raising up Larry Perry and Josh Wyman, we should all be very grateful. It is through them, in cooperation with the other Elders and Deacon, that the Lord Jesus will continue to lead Christ Church Carrollton through today's challenges and opportunities into tomorrow's. Please pray for God's continued provision and direction. May Jesus be glorified in all that we do and say!