Dr. Ron Anderson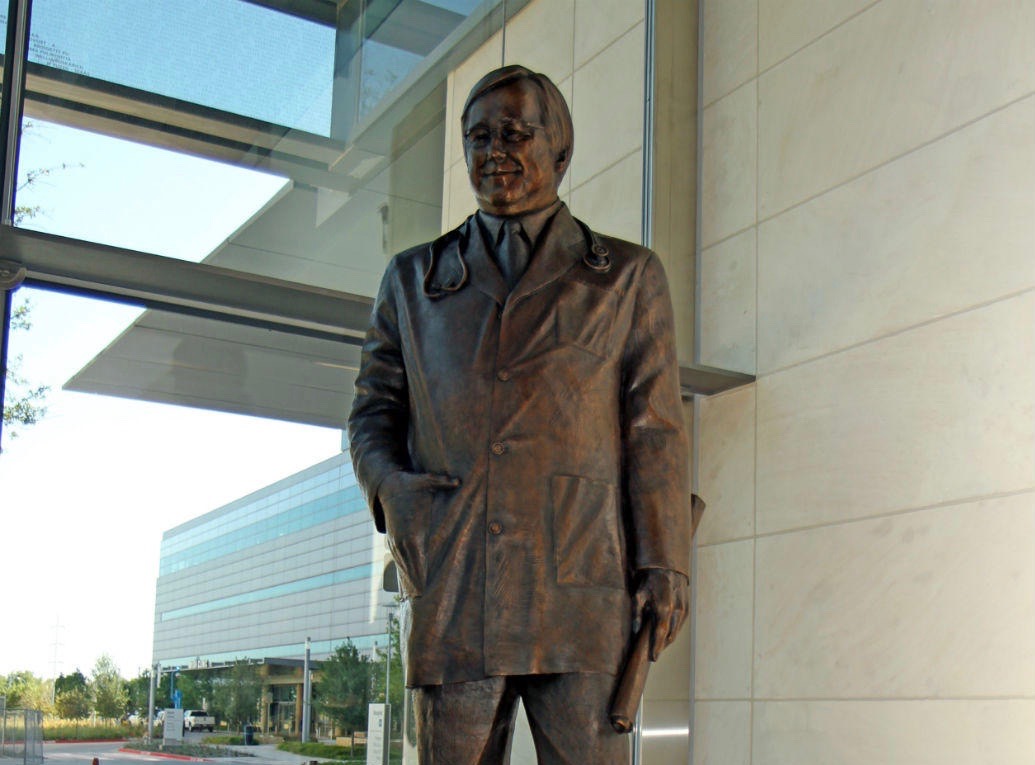 Earlier today I made the one-hour round trip to and from Parkland Hospital. Have you been there lately? It really is quite extraordinary! As I parked and made my way inside, I immediately formed two opinions: (1) I was amazed by the size, beauty and technological sophistication of Dallas' premier receiving hospital; and (2) I was struck by the crushing need that was visible on every side.
To begin with, the marble lobby was packed with hundreds of people, of every age and ethnicity. In the washroom, full of chrome and glass, I found a young man hunched over the toilet, passed out and looking as though he might have slept there. Outside the gleaming elevators, I met an intoxicated woman who begged for money. Everywhere, there was sickness and an overwhelming sense of despair.
And then I rounded the corner.
At the far south end of the Parkland lobby is a bronze statue of Dr. Ron Anderson, Parkland's CEO for almost thirty years. From 1982-2011, Dr. Anderson oversaw not only the complex operation of old Parkland, but also had a huge role in designing and building new Parkland. In his statue, Dr. Anderson is shown holding the new hospital's blueprints in his left hand while a stethoscope rests on his shoulders. He is wearing a medical lab coat, as he used to be seen doing all the time.
It's not hard to imagine that, over the three decades he was Parkland's CEO, Dr. Anderson saw the same things I saw at Parkland--the same crushing need, the same overwhelming despair. He very publicly wrestled with Dallas' health care disparities between the wealthy and the poor, and, in response, it was he, more than anyone else, who marshaled the resources to build the cutting edge healthcare facility we see today.
What some people may not know about Dr. Ron Anderson is that he was a devoted Christian. At his funeral in 2014, his pastor Robert Jeffress of First Baptist Dallas said this: "You cannot understand Ron Anderson apart from his faith in Christ. It affected every part of his life." A colleague, Dr. Daniel Podolsky, said this: "Dr. Ron Anderson's dedication to the needs of the most vulnerable of our community was unwavering. His example should inspire generations of providers to care for and about all those in our society."
There are at least three takeaways from Ron Anderson's life and ministry: (1) Confront the problem, no matter how daunting--don't run away from it. (2) Leverage resources--take what you've got, use it to the best of your ability, and make relationships of trust as you go; then use those new relationships to confront more problems. (3) Always have integrity--a reputation for honesty and fair-dealing is not only right, it's also smart!
Wouldn't it be great if Christ Church Carrollton had a reputation for genuinely caring for others, for showing Christ-like love to everyone, for being an advocate for the neediest in our community? Of course, it doesn't really matter what people think of you and me, but wouldn't it be a terrific witness to Christ and his gospel of love? I think so, and Dr. Anderson seemed to think so too.
In closing, let me move the focus from Parkland to Carrollton. I want you to know that it's Anderson's kind of loving witness which is the goal of Samantha Wyman and Christ Church's Local Mission Team. We'll do our own thing, in our own way, and I'm fairly certain it will be much, much humbler than Parkland, but my hope is that, in whatever we do, be it big or small, we'll make Ron Anderson's passion and faithfulness to Christ the model for our own. And, as we do, may Jesus Christ receive all the praise! I'm pretty sure Ron Anderson would say Amen.