Christ's Church in Carrollton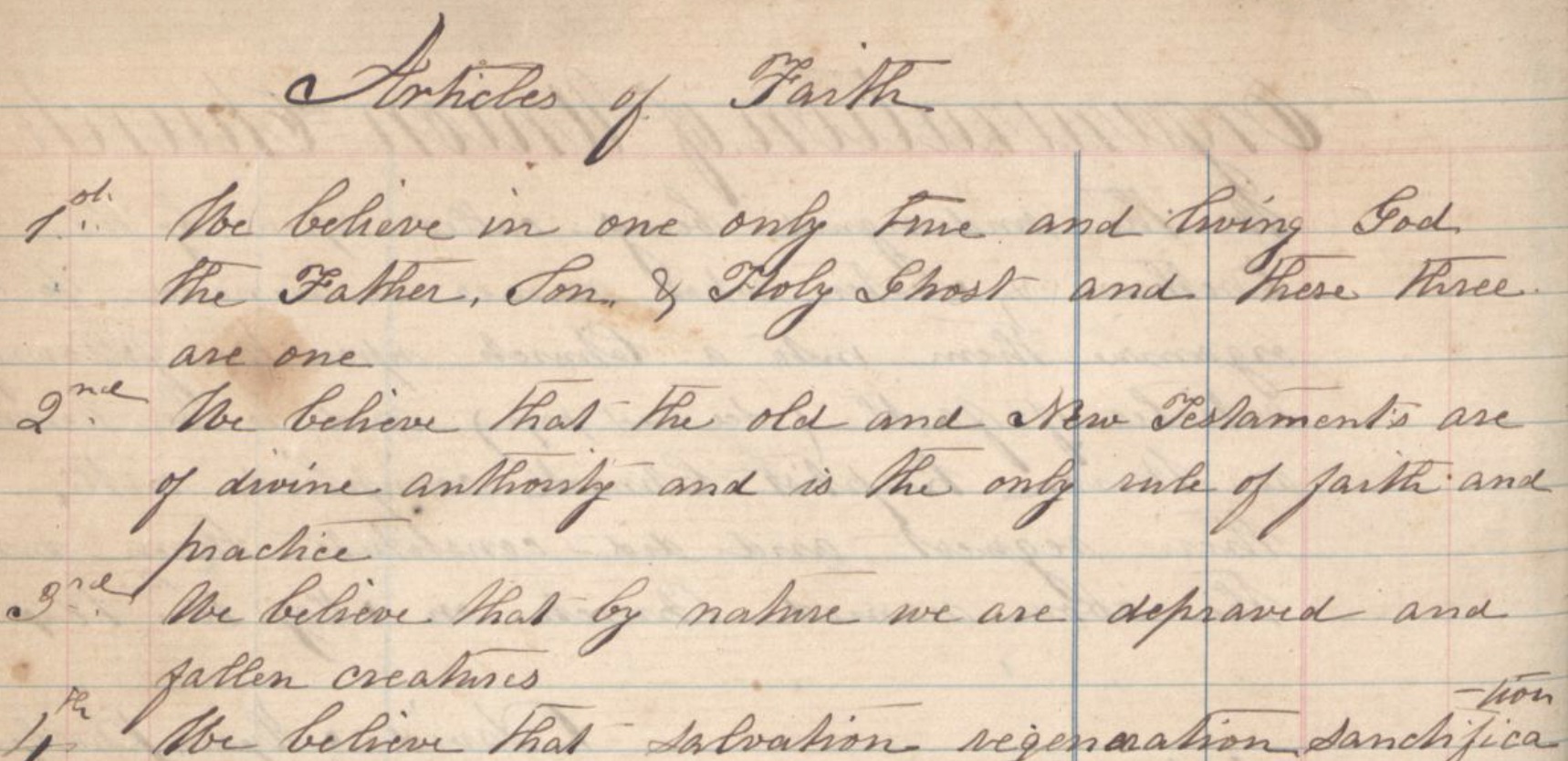 Christ Church Carrollton (Texas) met for the very first time on Sunday, July 18, 2010, but Christ's Church in Carrollton began a long time before we showed up--on May 10, 1846, to be exact--just ten years after the Alamo--when a band of Christian pioneers from Carrollton, Illinois, met together to hear God's word and to pray.
After providing for roofs over their heads, the next thing these intrepid men and women did was to organize a church where they could worship God. They called it Union Baptist. Their founding pastor was a remarkable man named David Myers, whom a columnist in the Dallas Morning News once called "The Moses of Dallas County."
One of my favorite things to do is visit David Myers' grave. It's in the old Keenan Cemetery in Farmer's Branch. His headstone reads "Elder David Myers." I always smile when I read it because, these days, "Elder" is an unusual title for a Baptist pastor. It's the English translation of the Greek word presbyter, as in Presbyterian!
By all accounts, Elder Myers was a faithful pastor who sought with all his heart to preach God's word to his little flock. His first sermon at Union was said to have been at a funeral; and he died only a few years later--after guest-preaching at a nearby church--of what they called "typhoid pneumonia."
Since our ministry moved to Carrollton, I've read a lot about David Myers and Union Baptist. As a church planter, I have thought of them often, especially when I get to feeling overwhelmed by the challenges we've faced starting Christ Church. I remind myself all the time that our challenges are positively puny compared to theirs!
Despite unimaginable obstacles, David Myers and his church had great courage and great perseverance. Above all, they sought to be faithful to the Lord Jesus Christ. I've read their Articles of Faith, which survive to this day, and, with just one exception having to do with adult baptism, I could happily sign the Union Church Articles right now.
Not too long ago, I found a lovely reference to the first generation of Christians who lived in and near Carrollton. It's found in the Minutes of the Elm Fork Baptist Association, compiled in 1870 by Elder Myers' son, John. After making reference to his father and Union Baptist, John gave this beautiful description of church life:
"Christians rejoiced with joy inexpressible and full of glory; waste places were made glad and deserts blossomed as the rose... It was good to be there; the people were poor, humble and happy in the love of Jesus... Our thoughts will often revert back to the days of yore. God was our refuge--a present help in every time of need. To him who loved us and washed us in his own blood be all the glory."
Isn't that beautiful?! All I can really add is Amen! May the Lord Jesus Christ fill us at Christ Church Carrollton with that same joy, hope, gratitude, and praise! And may Jesus empower us to be as faithful and courageous in our day as David Myers and Union Baptist Church were in theirs!