Christian Citizenship 101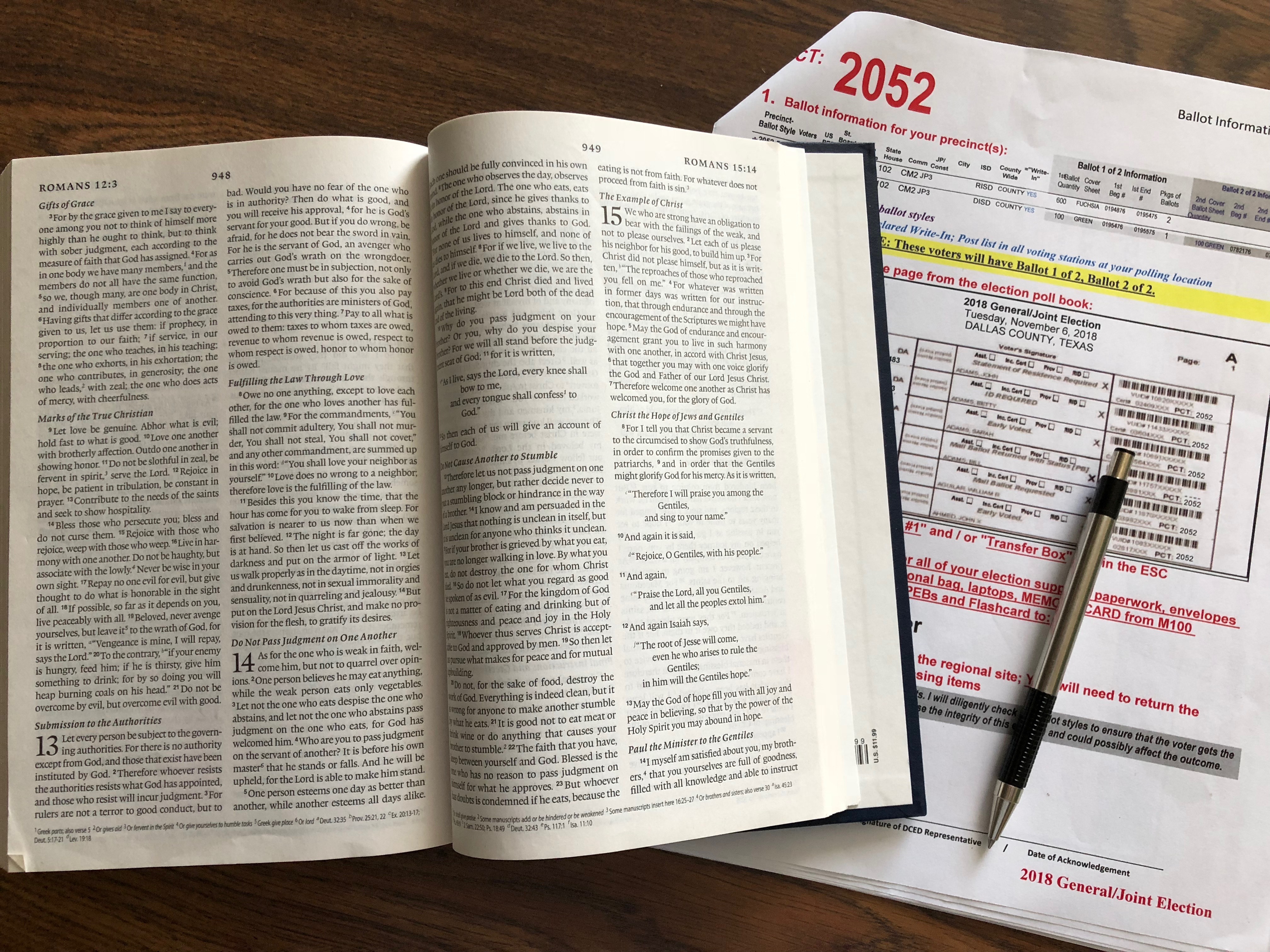 You might have heard there is an election coming up in just a few days! On Tuesday, November 6, Americans all across the country will be voting for Governor, Lieutenant Governor, Attorney General, Senator, Congressman, County Commissioner, Justice of the Peace, etc, etc, etc. I've been thinking about our role as Christian citizens. Here are a few simple elements of what I'll call Christian Citizenship 101:
First, Christians should vote. I won't say it's a commandment, but I'll certainly argue it's the wise and appropriate thing to do. I'll actually be serving on November 6 as the Election Judge for my home precinct (2052 in Dallas County). I care very much who wins, but my responsibility that day will be to see that we run a fair and honest election. Outcomes are God's business, not mine. I'm just hoping every Christian will vote for candidates who represent Christian values.
Second, we are to submit to our leaders. In Romans 13:1, Paul writes, "Let every person be subject to the governing authorities. For there is no authority except from God, and those that exist have been instituted by God." Of course, when civil law conflicts with God's law, we are to stand for Gods law, but to the extent possible, we are to submit ourselves to the authorities placed over us. If Paul could submit himself to the Emperor Nero, surely we can submit ourselves to a leader of a different political party--while thanking God for the Bill of Rights!
Third, we are to pray for our leaders. In 1 Timothy 2:1-2, Paul says, "First of all, then, I urge that supplications, prayers, intercessions, and thanksgivings be made for all people, for kings and all who are in high positions, that we may lead a peaceful and quiet life, godly and dignified in every way." How can we make it more possible for Americans to lead peaceful, quiet and godly lives? According to 1 Timothy 2:4, it's by praying for our leaders to come to a saving knowledge of the truth--not just saying they're Christian, but by being subject to Jesus.
Fourth and finally, don't be anxious. Jesus is not subject to election now or ever. Emperors and Presidents and Governors and Senators and Congressman come and go, but Jesus Christ reigns over all human authorities, and, one day, his kingdom of perfect justice and perfect peace will be revealed in its fulness. Until then, we are not to "be anxious about anything, but in every situation, by prayer and petition, with thanksgiving, present [our] requests to God."
In God's mercy, you and I have privileges that were unimaginable in most of human history and are, in fact, still unimaginable to most of humankind. We get to choose our leaders! It's a privilege secured for us by the generations that came before us. So participate, vote, and say Thank you! And rest assured that whoever wins and whatever happens, the sovereign Lord Jesus Christ will absolutely accomplish his sovereign purposes here in Texas, in the US, and around the world.