An Incarnational Sunday School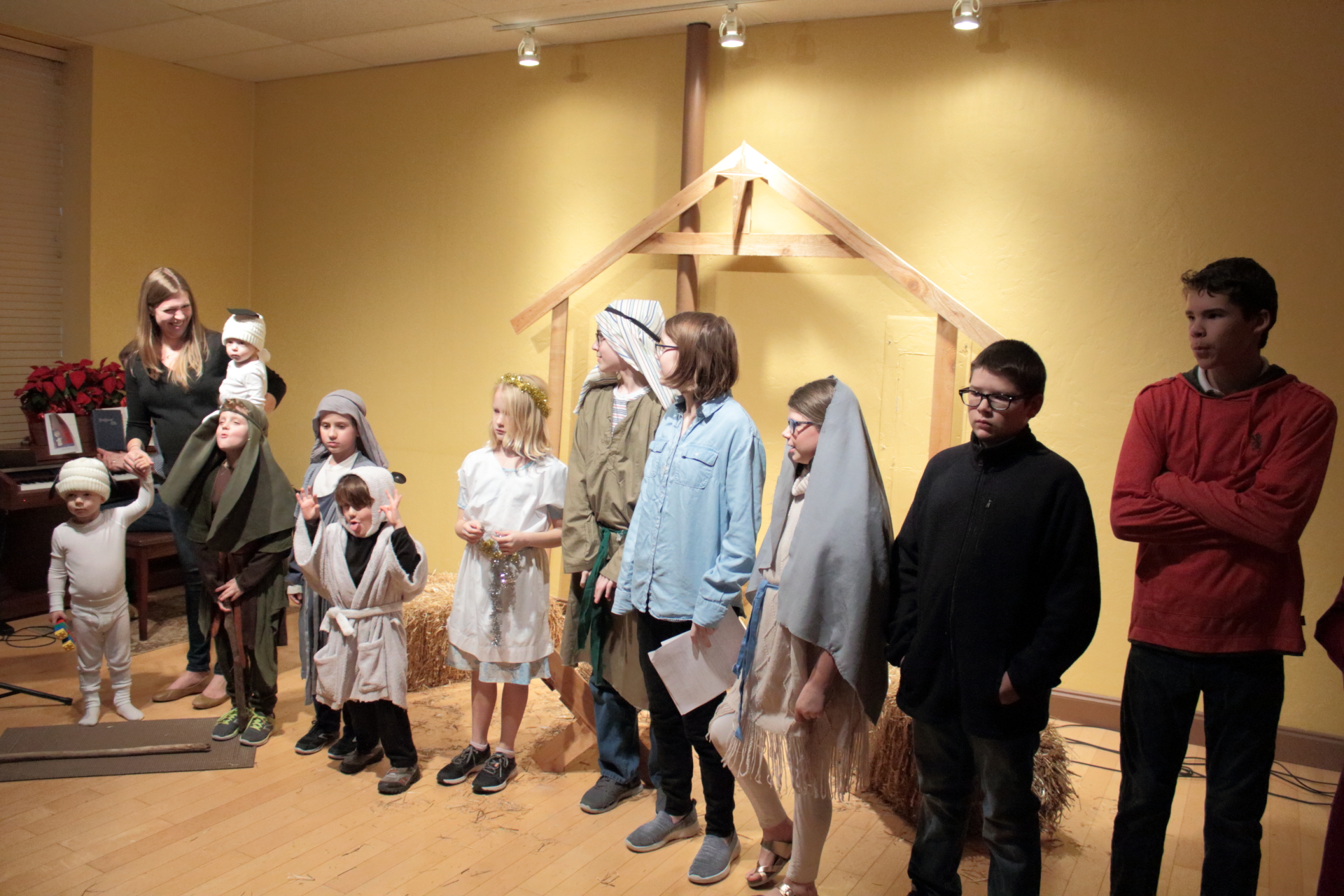 Christ Church Carrollton's Sunday School has always been a source of great pride to me and to our Session. Though we are a small church, with a small Sunday School, we have always had outstanding kids, outstanding teachers, and outstanding oversight by Heather Myers, our long-serving Sunday School Team Leader. Back in August, Heather and her team (with the Session's input and support) decided to try an experiment: we combined all three of our small classes into one medium-sized class, with Brian and Grace Laird teaching all ages together. The results so far have been encouraging.
First, the kids have begun to get to know each other. Dealing with our small group of kids in one multi-age setting has meant they spend time together every Sunday, listening to the lesson, responding with questions and insights, laughing, talking, and praying with and for one another. The younger kids enjoy hanging out with the older kids, and the older kids enjoy helping the younger kids. Isolated groups of one or two kids, segregated by age, can't easily provide for this kind of broad-based, dynamic community, but together in one group they can. As they get to know and care about each other, they enjoy Sunday School more and benefit from one another's experience in Christ.
Second, the kids have gotten to know their teachers. As I said before, Christ Church has been blessed with a great Sunday School for years, and a big part of its success has always been our dedicated teachers. What's new this past semester has been that Grace and Brian are with all the kids, every Sunday. So, over the past twenty Sundays, it's been wonderful to see the kids respond to so much focused attention. Of course, as the kids have gotten to know and love Grace and Brian, Grace and Brian have gotten to know and love the kids. A bond has been formed that will actually live on long after the kids have outgrown Sunday School.
Finally, and most importantly, our Sunday School experiment has made it possible for the kids to get to know the Lord. A strong and growing relationship between the kids and their teachers has created the context for a strong and growing relationship with Jesus. Classes are very interactive, less like lecturing and more like discipling. Whether their weekly lesson has been directly from the Bible or from the Biblically-based Shorter Catechism, both the kids and the teachers have been taught Biblical truth and have been challenged to live out that truth within a community of love and acceptance—a little microcosm of the church.
I call this six-month experiment our "Incarnational Sunday School"—Teachers and students really connecting with one another and living their lives in loving fellowship, focused on Jesus, getting down into the nitty-gritty struggles and joys of being a part of the covenant family. Grace and Brian have done a great job and are now finishing their six-month commitment in order to prepare for the arrival of twin girls due in April. We are praying for two teachers, preferably a man and a woman, who will succeed them and help our Sunday School to continue to grow.
It's not insignificant that the climax of this experiment has been our first-ever Children's Christmas Pageant. We had full participation by the whole Sunday School—narrators, angels, shepherds, sheep, Joseph, Mary, and even a real-life Baby Jesus—and wide participation by the whole church. The story which the kids reenacted, and which we all gratefully witnessed, was the story of the Incarnation, when God himself, in Christ, stooped to enter our messy world, to live his life with us, to teach us and to give himself for us, so we could come to love one another and to love him. Celebrating the Incarnation of Jesus Christ—and seeking to live it out—is the goal of our church's Sunday School and of our church.